Does your free delivery include the UK?
Yes, but… 🤫 We've been trialling this for a while now, and it works! We can get food safely chilled from Ireland to the UK. But we're keeping it under our hats for a while, everything we do, we take great care, practice and make 100% sure everything is always perfect – we change things slowly and carefully!
But, if you're in the UK and you'd like to get a Trial Pack though, please follow this link and let us know all about your dog(s) and if you'd like to order, we'll add you into our very next cook!
How do I store and feed the meals?
Trial packs, generally, take up in the freezer the space of a loaf of bread. And we group regular deliveries into somewhere between 5-10kg – and in turn they'll arrive every 2-6 weeks or so (sometimes less often for tiny packs). You'll need to set aside a drawer in a freezer to store them, for a larger delivery (more than one dog), maybe two!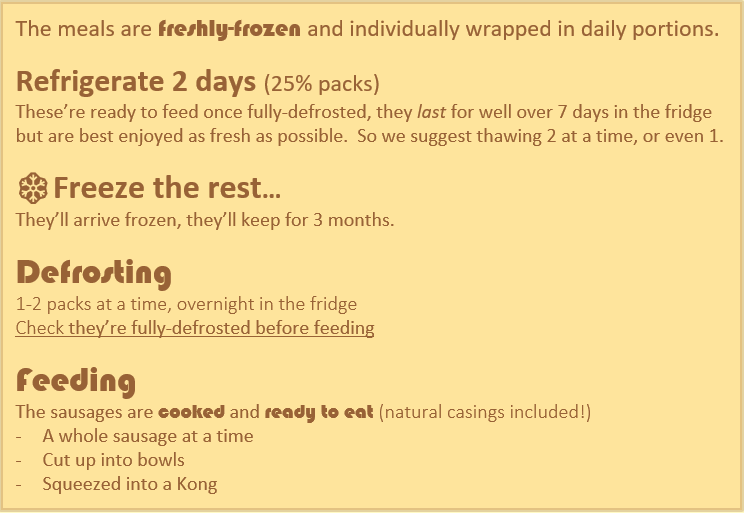 Is your food raw?
The meat, herbs, lentils and vegetables are very gently cooked in their own juices, for just 10 minutes. This kills any pathogens on the raw meat, while retaining as many of the nutrients as possible and maximising the heath benefits of all the great ingredients. The milled chiaseed, flax and pumpkin seeds, along with the kelp and eggshell calcium are added raw at the end before portioning into perfect ready-to-eat sausages ready for delivery across Ireland! 🌭 🚴 🚚
Raw suits some, gently cooked others – sometimes both. For us, the main thing isn't what kind of fresh – but that food isn't over-processed and full of nasties, or ingredients we don't recognise – we like to know and understand what's in our dogs' dinner and there's no reason not to. Fresh in our view is without question best for dogs and us alike.
Where are you based?
Our home kitchen where we cook and wrap all the meals is is up in Country Down… we also live in Dublin 8 and use this as our base for personal deliveries to Dublin and neighbouring counties. the rest of Ireland is covered by courier!
Production & head office
Phoenix Bark Ltd.
The Nautilus Centre
Kilkeel
Co. Down
Northern Ireland
UK VAT number 326740602
UK Registered Company 11987669
ROI VAT number 3683029RH
EU Regulatory approval numbers
GB NI/4654
PTF/782/19