We're all becoming more aware of the impact of a dog's diet on their health and wellbeing…so it's interesting not only to consider their main meals, but also what other healthy and tasty snacks and treats can be added to their weekly menu.
Let food be medicine…
We humans are likely to need less frequent visits to the doctor if we eat a well-balanced, varied and nutrient-rich diet. It follows that the same benefits can be seen by dogs, if we take a similar approach to their food.
Here are a few ideas for you to consider. 😋
Sardines in Water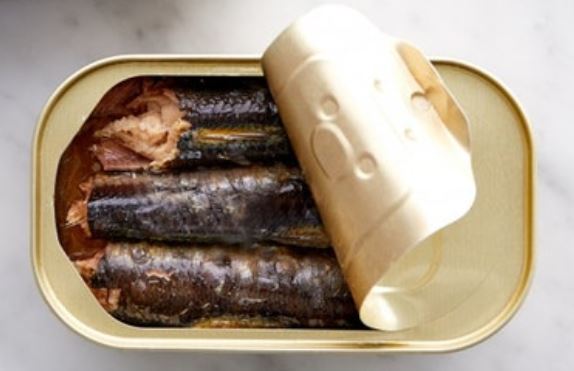 You can buy these from any supermarket – they are surprisingly good value, high in protein and also packed with Omega-3 fatty acids, which have anti-inflammatory properties. Inflammation is the root of many ailments and illnesses which occur in dogs (and humans!).
This is also one of the few treats that contains naturally-occurring Vitamin D. And this is important – because dogs can't synthesize this from sunlight and so in turn, low Vitamin D levels is a common risk that dogs are exposed to.
This snack is unique in its ability to get your dog valuable nutrients that contribute significantly to overall health, for minimal cost with basically zero effort.
Feeding guidelines (weekly)
| | |
| --- | --- |
| Dog weight | Maximum per week |
| 5-10 kg | 200g |
| 10-20 kg | 300g |
| 30-30 kg | 400g |
| 30-40 kg | 500g |
Fermented veggies – sauerkraut
Just like us, dogs play host to many different types of bacteria. When flourishing, their gut microbiome helps maintain not only their physical, but also their emotional health. 70% of a dog's immune system is in their gut, so it's important to maintain a healthy balance of friendly bacteria.
Fermented foods are also wonderful detoxifiers and make the nutrients in our food more bio-available!
Sauerkraut is rich in these wonderful pro-biotics, which help balance the gut bacteria. Whether your dog has been on antibiotics (these kill the good guys and the bad guys!) and the gut needs replenishing, or you simply wish to maintain a healthy gut environment, sauerkraut is a fantastic option, a great addition to their bowls.
You can easily make at home or buy a jar (onion free!) at your local health store… oh and make sure that it is raw!
Kim chi is also loved by many dogs and has the same benefits, so it would be good to alternate between the two (again, be wary of the ingredients, avoid chilli for example!).
Feeding guidelines (daily)
2 tsps for every 9kg of body-weight.
Organic Blueberries
Many people are amazed when we recommend blueberries as an occasional snack! However every dog I know loves these little antioxidant-rich balls of sweetness.
But, be careful – choose only organic, as berries can be liberally sprayed with pesticides and being so porous, tend to soak up the nasties like sponges.
Not only are they antioxidant-rich (which means they eat up cell damaging free radicals), but they also contain minerals (iron, phosphorous, calcium, magnesium, manganese, zinc), fibre and Vitamin K; they also have a low GI. And, amazingly, they are believed to also help combat cognitive decline – making them an especially good choice for senior dogs!
Many human studies demonstrate that blueberries help boost brain performance and their effects are the same for dogs! The presence of phytochemicals in blueberries helps to create healthy blood vessels and aids eyesight.
You can feed fresh or frozen (freezing improves the availability of antioxidants – check out Bunalin, their organic frozen blueberries are packed in cardboard).
Remember though, as they are a fruit… don't overfeed as it may cause a mild tummy upset!
Feeding guidelines (daily)
2 blueberries per kilo (dog body-weight)
Ri Raw – Moonbone
Ri Raw have some amazing treats and snacks! Our first choice treat for dogs (so difficult!) would be their Moonbone – a natural beef cartilage. It is high in glucosamine and chondroitin, which help maintain, protect and support a dog's joints. 1-in-5 dogs suffer from arthritis and moonbone is a great way to either help shield your pooch from this common ailment, or alleviate symptoms in already suffering dogs.
Ri Raw is a company we deeply admire and highly recommend – take a look at other treats they have on offer… so you can think about incorporating some of their products into your dog's weekly food ritual.