Stepping stones…
If we tune in and listen to the loving energy around us, magical things happen. The stars align. And just as we feel like we're stepping into an abyss, a stepping stone appears to support us and help us along our journey.
We've learned to depend on it, and stride forwards, to be brave!
We're Kathy and Duncan, we run Phoenix Bark, and our business has grown, alongside our family, since the start of 2019.
We have a shared love of food, nutrition, spiritual growth, health, wellbeing, nature and animals – especially dogs! This meant that when we met, we instantly connected and soon fell in love (over Duncan's cooking, in Kathy's kitchen!).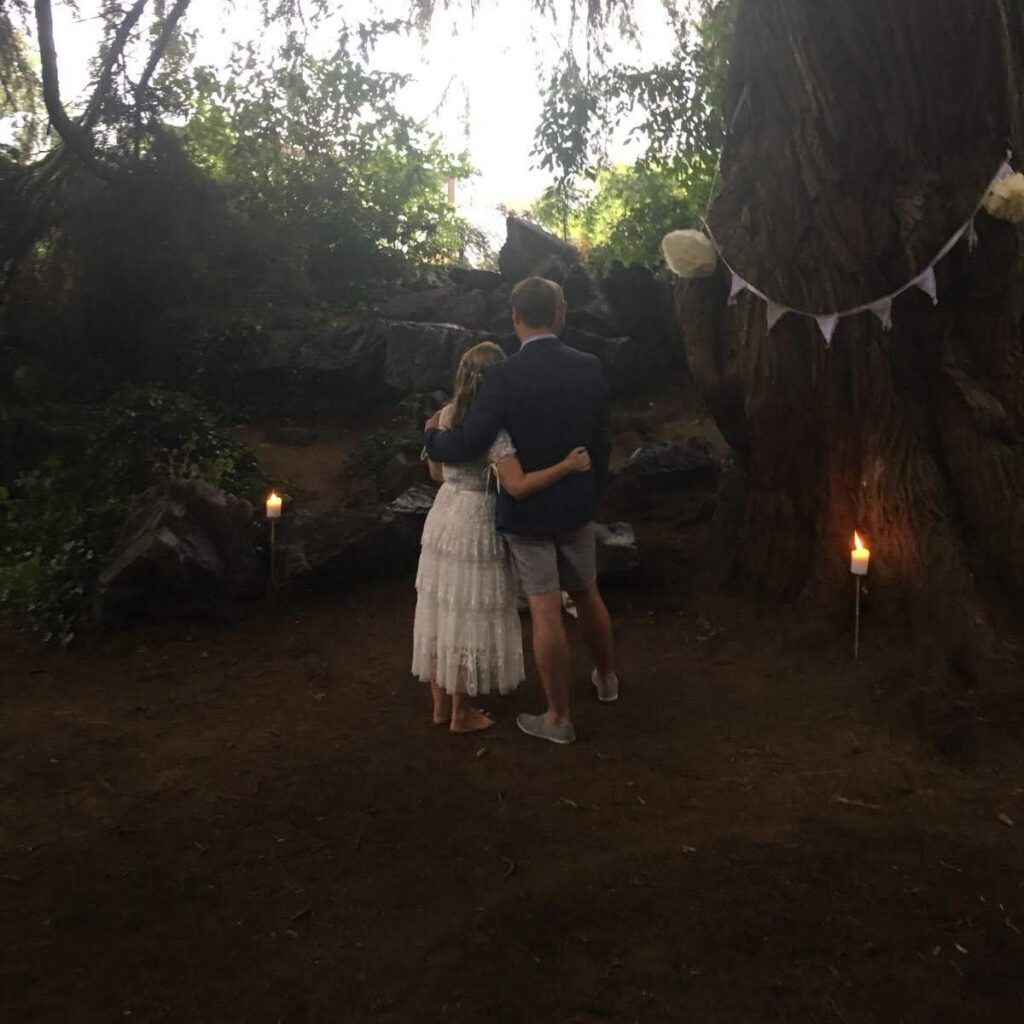 We didn't even imagine back then, as Finn & Aaron (Duncan's kids) tied the hand-fast in the ceremony, nor when Buddy and his humans (Simon & Tomas) witnessed our second and 'official' wedding in Dublin's (dog-friendly 🐾) Registry Office, that we'd be wrapping hundreds of personalised packs of doggo sausages in our kitchen and falling asleep at 3am, just a few months later!
Our pack
Just a few weeks after we met, and sadly before Kathy got to say hello, Duncan's dog Weeguy passed away – he was 14. He'd been one of an inimitable pair, with Lemmy who'd taken his own peaceful journey over the rainbow bridge a year earlier.
Losing a dog leaves a hole in your soul that's just impossible to put into words. But, much as we both yearned to have dogs in our lives again, the time and circumstances just weren't quite right.
But, the magnetism of dogs for us both was irresistible. And so we found a way to bring them into our lives. Through borrowmydoggy.com – we met Libby. She is part of a family that grew unexpectedly (twins!). We were overjoyed to be able to welcome her into our home part-time, and our family full-time. A great thing for Libby – even MORE love, cuddles and fun!
From here, we basically became the Dolittles to a whole pack of four-legged guests. With Alf, Sonny and most recently (crossing over to the dark side 🙃) Finn & Aaron's two kittens Winter and Ollie – we've a fair list of regular guests here at the Bark Lane Hotel!
Home cooking – the backstory
For over a decade before Kathy met him, Duncan had been home-cooking for his dogs. Since 2004. It began with that overwhelming love that arrives at exactly the same time as a family dog crosses the threshold of the home. Accompanied by that irresistible drive to do what's best for them, their health, wellbeing and happiness…
Duncan asked himself a question:
What's in my dog's dinner? 🤔
Before even researching the answer (a tenner for 10kg of food, it wasn't just the smell that was a bit fishy), a decision was made: to know and intimately understand what Lemmy and Weeguy were eating. Now the answers – still unfolding as we dig deeper and deeper…. are JAW DROPPING.
Fast-forward to 2017…
With Kathy's background in human nutrition, and a shared passion for healthy, great quality food – they worked together to adapt and improve recipes to treat their furry guests.
The joy of cooking for the dogs in our extended family was indescribable. Each of them has their own, unique relationship with food… a whole spectrum. From Libby's (exceptionally…) delicate tummy, to Buddy's general laissez-faire attitude to EVERYTHING and Sonny's difficulty gaining bulk (and his drinking problem). Alf was of course, as ever, the perfect gent (fox poo issues aside!) – it was just lovely to see him really enjoy his dinner!
The next stepping stone…
There was peace, calm and we really relished and appreciated life.
But – something was gnawing away, Kathy especially wanted to flourish, to turn her passions into a real purpose. But, living in a flat in Dublin and working 9-5 ("what a way to make a living" – and 8-6 in reality, including Sundays, Dolly was from a different era!) didn't allow Kathy any control over her days, the freedom to see through her instincts and make decisions, or feed her unquenchable thirst for learning and growing. But also, just as importantly, reality didn't suit bringing a dog into our lives… still.
It was time to be brave, trust, and allow our instincts to guide our plans. It was time to change the narrative, the drum beat of our lives. And make space to do something our way, and more importantly – make space for a dog of our own. It was time to get the thinking caps on and work out how we could turn our passions and values into an income, and put dogs at the centre of our lives.
Then – another stepping stone. Faced with a doggy shaped hole in our lives, and listening to Radio 4 one evening, we heard an inspiring piece on fresh feeding. It was emerging in the UK and around the world as an alternative to mass-produced, highly-processed and unhealthy dog food. We realised that there was an opportunity to turn our personal passion into a business; to help share the lessons we'd learned. The penny dropped… this had Kathy & Duncan written all over it. And importantly, nothing even remotely similar existed in Ireland.
The rise of the Phoenix
We were motivated, inspired and brimming with passion. We took our enthusiasm for home cooking for the dogs in our lives up a notch.
We consulted our great, varied audience of critics, and began to seriously test and evolve our recipes. Journeying from our loving, nutritious, home-cooked meals to precisely formulated, balanced and eventually laboratory tested recipes. The gulf-to-stepping-stone pattern continued over these few months.
Our list of uncommon good fortune is endless – and we've learned to trust that as long as we make principled decisions, are honest and passionate about making dogs happier and healthier – our path, supported by relentless hard-work and smart thinking, will be positive.
From the day we rented a commercial kitchen in Bray to road test our cooking outside the tiny kitchen in the flat…. and were, that day, given an introduction to Dr Conor Brady (Not realising at the time just quite how fortunate we were to have crossed paths with this country's leading canine expert when we did.) – he has helped support and guide us ever since.
To finding Billy at Feighcullen Farm. The only supplier in Ireland who can meet all of our needs, particularly with his sustainable farming methods and high-welfare standards!
And beyond all that, after officially setting up Phoenix Bark in Kilkeel and getting commercial production underway – we soon found that we needed a much bigger kitchen – our doggo sausages were popular! We looked around this remote area in County Down for something suitable. We found a place – 2km away – fully kitted out and ready to use that same day.
Perfect. Rare. Almost impossible.
We have established the most incredible networks and connections – like-minded holistic vets, (introduced to us by our unbelievable, loving and kind customers), our staff in the kitchen in Kilkeel, our exceptional suppliers, from Pony Express, to WoolCool, Klee Paper, Get Print Ni – we're surrounded by incredible people and they've all helped us to thrive. And in turn to help dogs around Ireland thrive too.
It's astonishing to take stock and reflect while we write this, just how MUCH our personal passions and decisions have now begun to benefit so many families all over the country. Our recipes have ended up being sold all over Ireland – Derry to Dublin, Belfast to Bray, Wicklow to West Cork and everywhere in-between!
We hear often about the joy and happiness our service and food brings to dogs (and their owners) across Ireland. So many positive stories, it's been breathtaking and quite overwhelming at times. Dogs that are underweight, overweight, with skin issues, mobility problems – even some at death's door. Phoenix Bark has now enhanced so many family lives – our customers now have more, better quality time with their best friends!
But remember, we set out to do this with one very important mission in our minds. We hadn't been able to fit a dog in our lives full-time. And so, after changing our lives, our work and our home. Finally, the time was right – we'd created exactly the right shaped space for…
…Barbara
Just before lockdown in spring 2020, Duncan picked Kathy up from the Phoenix Bark kitchen one evening… and headed off. Just like with so many events in our lives, the Universe had spoken and there was a very clear energy that day. Duncan had heard of an unexpected litter in North Down – and there was one puppy left that needed to be homed.
Hoping (but knowing deep down) that there would be 'that' connection when we met her, we set off to meet Barbara. We left with her cradled, in our arms. A little apprehensive, taking on a big responsibility, but so happy. And certain that we were doing the right thing, at the right time, for the right reasons.
She is the perfect Head of Quality Control – she's really fussy, so our recipes have to be SPOT ON to get her approval!
And this is only Our Story, so far…